Tropical Storm Arthur
Highest Winds – 45 MPH (75 KH)
Lowest Pressure – 1004 Mbars (29.66 in.)
Deaths – 5 direct, 4 indirect
Damages - $78 Million
Records – First time a named storm formed in May for 2 consecutive years
Tropical Storm Arthur was a short lived storm that hit the Yucatan Peninsula.
Meteorological History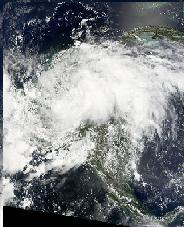 Tropical Storm Arthur started out of remnants of Tropical Storm Alma, which had crossed over Central America. Once the remnants came into contact with the warm water of the Caribbean, it started to re-organize. On May 31, it was classified as Tropical Storm Arthur. Later that day, it hit the Yucatan Peninsula as a minimal tropical storm. The next day, it dissipated over land.
Impact
Because of the storm, ports were closed along the Yucatan peninsula, and tourists were cautioned along the coastline. Tropical Storm warnings were in effect from May 31 until June 1. The main impact from the storm was high surf and heavy rain. Around 100,000 people were affected by the flooding rains.
There were 5 direct fatalities, and 4 indirect fatalities.
Ad blocker interference detected!
Wikia is a free-to-use site that makes money from advertising. We have a modified experience for viewers using ad blockers

Wikia is not accessible if you've made further modifications. Remove the custom ad blocker rule(s) and the page will load as expected.