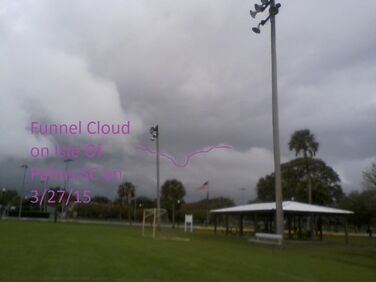 This was a rare series of tornadoes to touch down on and near Isle Of Palms, SC. It occured on 3/27/15 with a total of 3 tornadoes forming. The first was a gustnado that formed SW of 42nd AVE and dissipated just NE of 43rd AVE. The second was another gustnado that formed just E of Forest Trail @ Marginal RD and dissipated just N of Live Oak DR @ Wildwood RD. The third, a damaging funnel cloud formed N of Buccaneer RD (Goat Island) and dissipated just S of Waterway BLVD @ 25th AVE. These tornadoes/ gustnadoes formed because of a line of supercells in the area.
Ad blocker interference detected!
Wikia is a free-to-use site that makes money from advertising. We have a modified experience for viewers using ad blockers

Wikia is not accessible if you've made further modifications. Remove the custom ad blocker rule(s) and the page will load as expected.