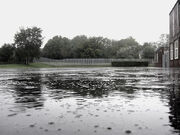 A flood is characterized by rising water levels. Flooding can be caused by prolonged periods of heavy rainfall, as the ground cannot absorb more than an inch of water per hour without having problems. Also, flooding can occur from other causes such as storm surgeor the bursting of a dam. In addition, river rises can caus e floods as well, if they crest over their banks. Flooding is a dangerous phenomena, and many people underestimate the danger of a flood.
This article is a stub.
You can help by expanding it.
Ad blocker interference detected!
Wikia is a free-to-use site that makes money from advertising. We have a modified experience for viewers using ad blockers

Wikia is not accessible if you've made further modifications. Remove the custom ad blocker rule(s) and the page will load as expected.